Kajabi vs Thrivecart Review 2023 : Which Is Best For Your Business?
Comparing Kajabi vs Thrivecart Review 2023: Which Is The One For Your Business?
I often get asked about why I chose Thrivecart over Kajabi for my cart.
And because I have my own reasons for it I thought a blog on their differences would be a good idea.
There's no compromise with carts. You NEED them to be pleasing and optimized for conversions.
There are lots of areas where I feel Kajabi lags behind when it comes to their cart feature. I'll take you through them one by one. Kajabi's cart is sufficient for most Kajabian but some may need something more robust.

Let's Check Out The Point of Difference:
Account Creation
To make a purchase in Kajabi it's mandatory for your client to make an account while purchasing.
If you have a coaching business or want to use Kajabi to sell an ebook or a digital download you don't need your clients to make an account in Kajabi as you will be following up with an automated/ personal email for the next steps.
But Kajabi simply does not have this provision.
Additionally, a lot of people like to receive their credentials via email so that they have them handy for when they need them.
Thrivecart has a major win. Thrivecart does not have any such mandatory step.
Returning Customer


If you're back on Kajabi to make another purchase, Kajabi will remember that you've had an account before and that you're a returning customer. Before making the second purchase, Kajabi requires you to log in first since you have an existing account.
This is a huge drawback because sometimes there are long gaps between purchases. Who really remembers passwords then? Unable to complete the purchase, the customer often feels irritated and stalls the purchase altogether.
Going through the process of "forget password", or "reset password" leaves a bad taste in their mouth. It confuses them and BOOM! You lose another customer.

* With the recent update in Kajabi, this is now optional. You can choose if they need to log in or not, but it still has some pitfalls.
How does Thrivecart win here?
Thankfully, there's no such re-login issue with Thrivecart since they don't expect you to make an account to complete a purchase.
Clients purchase things on Thrivecart and they are sent their login credentials for things you think they need an account for or an email is sent to them with the product they purchased. ( you decide this as the seller and not Thrivecart.
Payment


Thrivecart allows a trial period when you make a 1-time payment. This feature is not available in a 1-time pay option in Kajabi. In Kajabi the trial period is only on subscription payments.
Inability to Calculate VAT as per Location


Kajabi does not calculate VAT as per the customer's location. Kajabi obviously has users from all over the world, and the VAT percentage in every country is different.
The receipt you receive as a customer has the VAT already inbuilt in it. So there's no way for you to know the breakdown of the pricing. So people from countries like Canada and Europe face a lot of difficulties since it's mandatory in those countries for the receipt to have a proper breakdown of your purchase + the VAT.
The built-in tax calculation feature of Thrivecart really sets it apart. Thrivecart can accurately and automatically calculate sales tax on your purchase based on your location, product purchased, and various other variables.
A detailed bill is more important than you think. Big win, right?
Limited Upsell and Downsell Capacity


Kajabi can offer only 1 upsell. The upsell page in Kajabi is simple and basic, it isn't even very customizable. You can add video, and some text but that is the only customization you can do on an upsell page in Kajabi.
Thrivecart offers great customization options on the upsell page. Not only that, but they also have the ability to add more than 1 upsell.
Kajabi has 1 down-sell. But In thrive cart you can have multiple down sells.
---
Click here to get started with Thrive Cart! →
Basic Affiliate System


As business owners, we want to save time and reduce our manual work as much as possible. Kajabi's affiliate system is very basic, nothing extraordinary. It works for sure but there is so much that can be better.
You have to do the manual work by downloading the report making sure all is well and then paying manually to each of your affiliates. That can be a big-time suck if you have a lot of affiliates and no team to help.
Thrivecart lets you choose how you want to pay your affiliates the commission. You can either do it manually or automatically, it is your decision as a business owner.
Also, Kajabi doesn't offer any placeholder for you to offer affiliate assets to your affiliates. You have to design your own landing page or a product for this which is yet another step.
Thrivecart offers you a place to add your affiliate assets like images, swipe copy, etc for you to offer to your affiliates. The less manual work the better, don't you agree?
Plus you have so many options for customizing the experience for your affiliates.

You can also decide the validity of your affiliate cookie, which is not a feature Kajabi provides.


This adds a lot of little steps that Kajabi users have to do. If you opt for Thrivecart, you can chuck these small steps from your to-do list.
1 Type of Cart
Kajabi has only 1 kind of cart.
When we look at Thrivecart, it has multiple cart options to choose from. Standard, sales cart, embeddable cart, pop-up cart etc. So this way Thrivecart becomes a lot more flexible than Kajabi.


A/B Testing


Kajabi does not use the facility for A/B testing.
A/B testing is essential for you when you want to improve your conversions. Testing is essential to weed out what is not working and do more of what is working.
Thrivecart has the option to set up a split test. You can split up elements like price, design etc and figure out what makes your customers buy from you.
Payment Options


Kajabi accepts payments only from PayPal and Stripe. There is no third payment option which is quite disappointing.
Apart from Stripe and PayPal, Thrivecart also allows you to make payments through Google Pay, Authorize.net and Apple Pay. The more the number of payment gateways, the easier you are making it for your customer to buy from you.
Product Upgrade


When you decide to offer an upgraded version of the product someone just bought in form of an upsell, Kajabi bills both products. This means that the buyer will be billed for both products. Kajabi has no provision to nullify the initial purchase since they bought the upgraded version.
Thrivecart, though, nulls the initial purchase and only bills the customer for the updated version of the product. I believe this is a very good feature to have in your back pocket. It will save you so much manual work.
What Have We Decided?
So here we end this blog by discussing the differences between these two leading platforms.
Because I am a Kajabi user myself, I get asked a lot of times about which cart is better- Thrivecart or Kajabi. So I thought a blog to answer all those questions would be a great thing to do! I hope this has given you answers to all the questions you had. Now let's talk about the pricing.
Thrivecart Pricing
ThriveCart also comes at a great price! It starts at a one-time cost of $495. The pro version is $690 and has some additional features like an affiliate system.
Most carts of this kind will normally come at a monthly cost of 99 USD, this is a great deal at $495 for life.
Click here to get started with Thrive Cart! →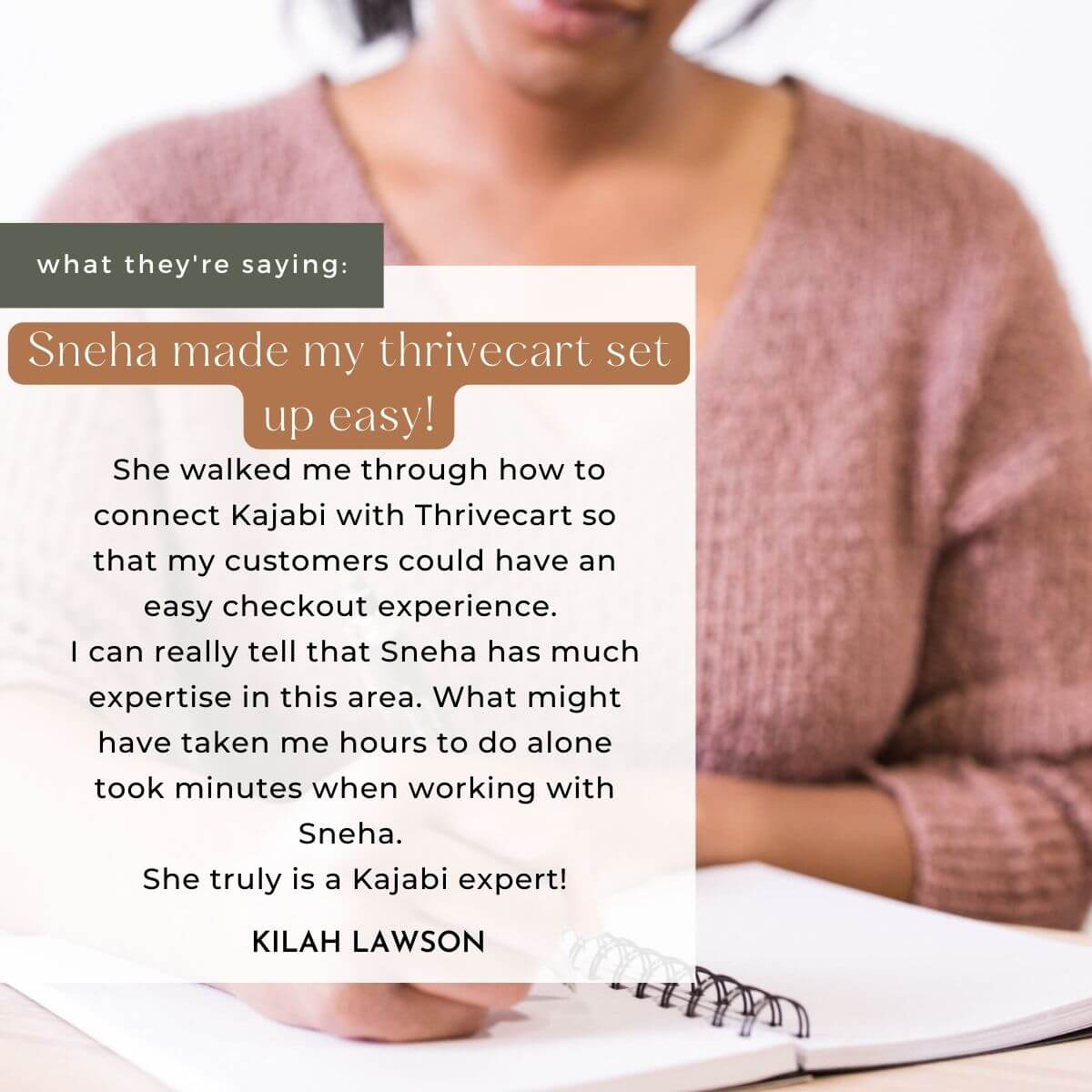 If you want the support that Lisa, James, Doris and Kilah, Hardus got, signup for Thrivecart using my partner link here.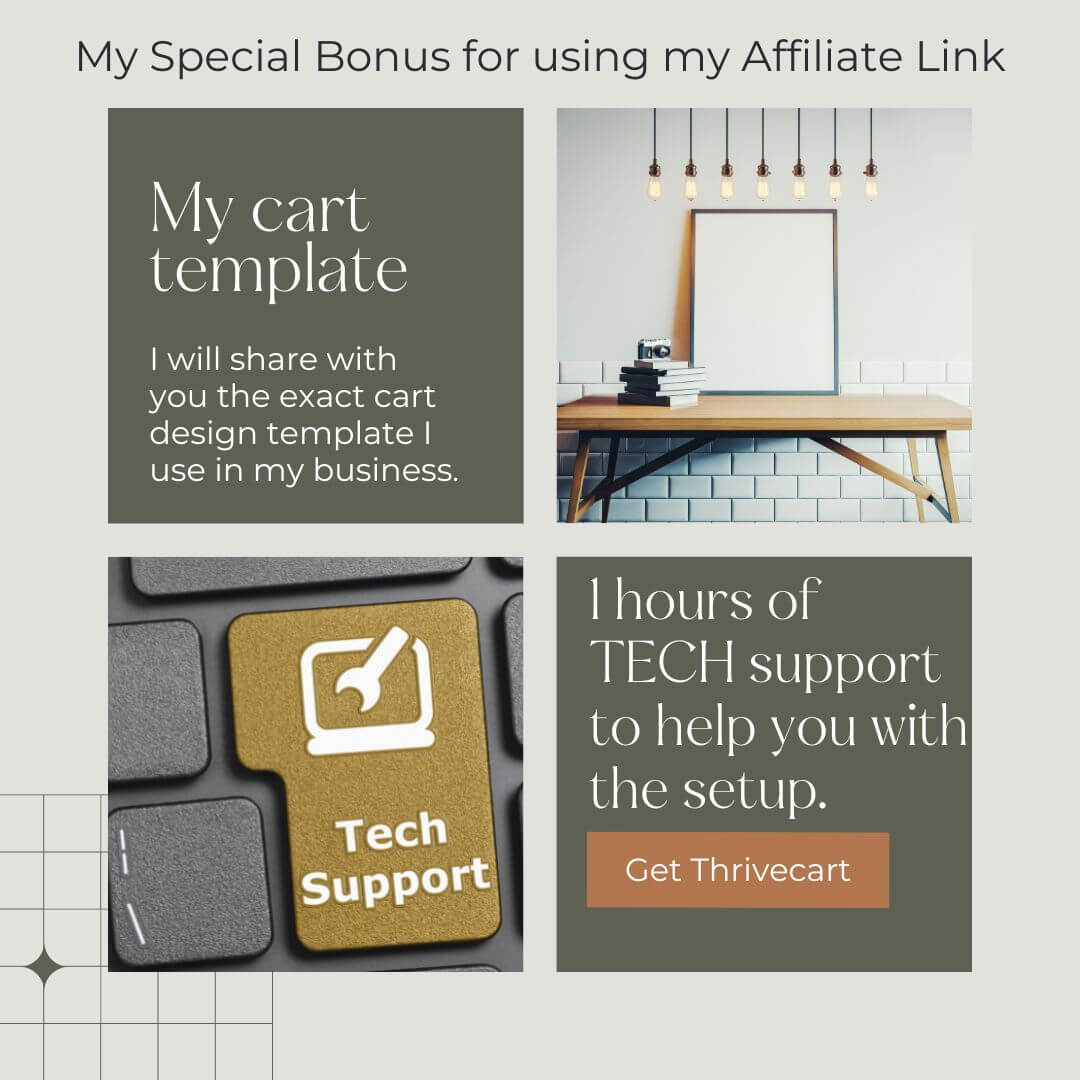 ---
Click here to get started with Thrive Cart! →
Disclaimer: This message does contain affiliate links meaning if you click on one of those links and end up making a purchase after doing so I might receive a small commission. I only promote products and events that I truly believe in.